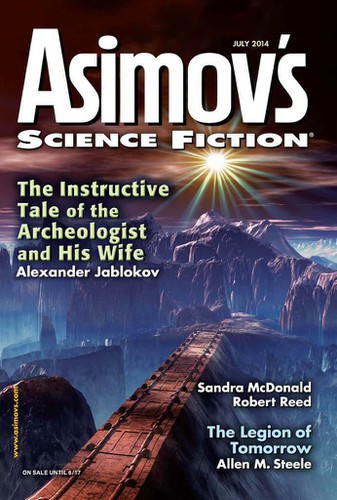 Asimov's, July 2014
by Sheila Williams
My rating: ★★★★☆
Read From: 23 May 2014 – 25 May 2014
Goal: Flotsam & Jetsam
Novella
The Legion of Tomorrow by Allen M. Steele—Kate Morressy meets the enigmatic "Legion of Tomorrow." Although at first glance this puzzling organization, of which her grandfather was a member, seems to simply represent science fiction's rich past and a link to someone she didn't know all that well. As she learns more about their goals and why they contacted her, it soon becomes clear that their plans for the future may offer humanity's best shot at an adventuresome new day.
This story felt old-fashioned, in the best possible way. It was a fictionalized history of the SF movement, with the Legion of Tomorrow referencing, and briefly meeting, real-life super group, the Futurians. And it was a story about the possibilities that SF writers are always itching to turn into realities.
Novelette
Blood Wedding by Robert Reed—The war between life and machines, between bio enhancement and cyborgs, turns all too real. Two men, two families, each representing one pole, have striven against each other for many years. Finally, it all comes to a head at the Blood Wedding.
Short Stories
The Woman From the Ocean by Karl Bunker—What's the smallest possible change you could make to humanity, to end war? Kali found out. Years earlier, she left Earth, with a group attempting to colonize another planet. They failed and had to return to Earth.
After crash landing in the ocean, she found that the world had changed, because of a virus that made one, small, change in human behavior. The virus altered humanity so that people could only imagine belonging to concrete groups (the people they knew and interacted with) and not to abstract groups (strangers who share common attributes). The result was no more us, no more them; no more tribalism or nationalism; no more reason to fight in large groups. That small change in humanity led to massive change in society, technology, and art.
Departments
Eat or Be Eaten by Sheila Williams—Asimov's editor shares her strong dislike of stories featuring intelligent beings eating other intelligent beings, whether aliens eating humans, humans eating aliens, or straight up cannibalism. I quite agree with her here and I'd be be very happy if she continued to deep-six whichever submissions she receives along those lines.
Was Jules Verne a Science Fiction Writer? by Robert Silverberg—Ask any SF fan or author if Jules Verne was the "father of science-fiction" and they'll almost unanimously agree that he was. Silverberg was "stunned" to find out that William Butcher, one of today's preeminent Verne scholars, doesn't think he was.
Verne is not a science fiction writer: most of his books contain no innovative science. … Verne himself was categorical: 'I am not in any way the inventor of submarine navigation.' He even claimed he was 'never specifically interested in science,' only in using it to create dramatic stories in exotic parts; and indeed his reputation as a founding father of science fiction has led to a major obfuscation of his literary merits.
Silverberg reviews the evidence and finds little reason to agree with Butcher. And, if Verne didn't consider himself a "science-fiction" author, that's only because the term wasn't invented until several decades after his death.
Why doesn't Butcher acknowledge Verne as an SF writer? Simple literary bigotry, according to Silverberg.
One big clue is contained in a sentence of Butcher's that I quote above: "Indeed his reputation as a founding father of science fiction has led to a major obfuscation of his literary merits." Butcher, a central figure in Verne studies for many years whose translations are generally accepted as the best in the field, has a vested interest in rescuing Verne from the taint of science fiction, which evidently he regards as trash. It's the old critical cliché: "If it's science fiction, it can't be literature."
I'm doubly indebted to Silverberg for this essay. I found out where to look for today's best translations of Verne's novels. And I found a passionate defense of Verne's bona fides as a pioneer of the SF genre.
On Books by Norman Spinrad—Spinrad leads off this column with a defense of the idea that cultures should be forward looking and that speculative fiction is an important part of that cultural orientation. He then talks about the difference between speculative fiction and modern "sci-fi". Whatever you think of the reviewed books (and I thought several of them sounded very interesting indeed), this introduction is well worth reading.
My Take
This was a very good issue. I found both a novella and a novelette that I enjoyed, as well as a thought-provoking short story. Norman Spinrad's "On Books" column gave me a good definition of speculative fiction and Silverberg's column was worth saving as well.