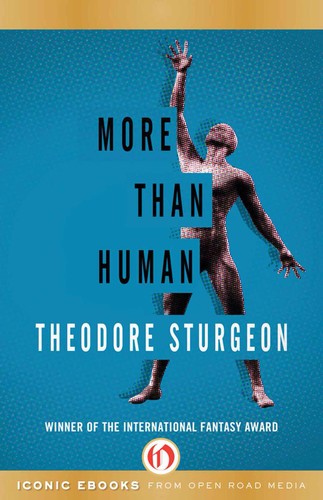 More Than Human
by Theodore Sturgeon
My rating: ★★★☆☆
Read From: 24 September 2013—1 October 2013
Theodore Sturgeon's acclaimed classic about a group of gifted misfits who discover that together they have the power to move humankind forward—or destroy it completely.

Lone is a seemingly simple young man living on the street and in the woods, dim and helpless, yet effortlessly able to read the thoughts of others. His true nature won't be revealed until the arrival of eight-year-old Janie, a telekinetic; twins Bonnie and Beanie, who can teleport easily across great distances; and Baby, an infant with a super-computer brain. Together they are the Gestalt, a single extraordinary being composed of remarkable parts (although an essential piece may be missing).

But are they the next stage in human development or harbingers of the end of civilization? It's a question that takes on a terrifying new relevance when Gerry joins their group—for though he's powerfully telepathic, he lacks a moral compass … and his hatred of the world that has rejected him could prove catastrophic.
This description caught my eye, when I saw it on my library's website. I'm always interested in speculative fiction about the future of humanity or people with unusual talents and abilities. When those people are actually blending together into a new life form, the concept just becomes more interesting.
The story wasn't the tightly plotted thriller or straightforward character development story that I expected. Instead, it was a series of vignettes, each focusing on different characters from different viewpoints, some from first person perspective and some from third person perspective. Some of the vignettes were beautifully and poetically written, others were more straightforward prose. Some focused directly on the main characters, others focused only peripherally on the main characters. Together, they formed a tapestry that told the story.
The book's flaw is that Sturgeon told more than he showed. He mentions, several times, that these multiple characters form one single entity. He even has one of his characters say that she can no more live without the others than an arm or a leg could live without the rest of the body.
And, yet, the story never shows that this is true. From what I saw, the characters don't appear to be that tightly linked. True, they worked well together and all of their gifts complemented each other. And they formed a tight knit family. But I never got the sense that they more than a close, devoted family. I never sensed that they were a linked entity that would truly be unable to live or operate as individuals. Diminished, yes. Demolished, no. As poignant as the book is, this flaw drags down the rest of the story.