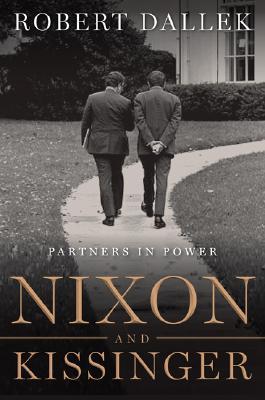 Nixon and Kissinger
by Robert Dallek
My rating: ★★★☆☆
Read From: 30 July 2013 - 6 September 2013
I have a few thoughts after reading this book.
It felt really long. Obviously, it was long. But some long books feel short and some short books feel long. This book felt really long.
How in the world did we manage to elect a neurotic, insecure, narcissistic man like Nixon to the Presidency? Especially one who would work in close partnership with another thin-skinned neurotic, in Kissinger? Sure, Johnson was also a power hungry manipulator. But he wasn't actually mentally unstable the way that Nixon appears to have been.
Why does Dallek always refer to Nixon as "Nixon" but mostly refer to Kissinger as "Henry"? It seems very odd.
It's a wonder that the U.S., and the rest of the world, survived the Nixon / Kissinger partnership as well as they did. Between Chile, Vietnam, Cambodia, the Middle East, and the Indo-Pakistan War, it was pretty bad. But it could have been a whole lot worse.
The book was aptly titled. It was entirely about situations that involved both Nixon and Kissinger. Dallek focused exclusively on foreign policy. He entirely excluded domestic policy from the book. Aside from the inescapable inclusion of Watergate during the last 6 months of Nixon's Presidency, you could be forgiven for forgetting that anything outside of foreign policy even happened between 1968 and 1974.
Even Nixon himself disappeared from the pages of the book when he wasn't dealing with foreign policy. Dallek focused almost exclusively on Kissinger's actions during the last 6 months of Nixon's presidency.
If you want an overview of the Nixon presidency combined with his partnership with Kissinger, I can't recommend this book. If you're interested in the detailed day by day account of Nixon and Kissinger's foreign adventures together, this is the book you've been looking for.