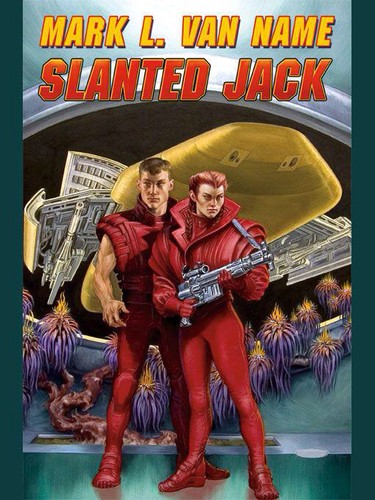 Slanted Jack
by Mark L. Van Name
My rating: ★★★☆☆
Read From: 25 February 2014 – 27 February 2014
Goal: Series
It's been about 2 years since I read One Jump Ahead, the book that introduces Jon Moore and his ship, Lobo. I liked that story because of the technology it introduced, especially Jon's ability to control the nanotech embedded in his body. Also, you just have to like a planet named "Pinkelplonker" (named by the 5-year old son of the captain that discovered the planet).
For the past two years, I've been thinking about reading more in the series. I've just never done it. I decided to do it this year, as part of my reading goals. Unfortunately, once I did read it, I was disappointed in this book.
The plot revolved around a boy that multiple people wanted, a possible survivor from Pinkelplonker. He was protected by Slanted Jack (a con-man so named because nothing he did was ever straight and on the level). Jon was brought in as Jack's one-man security force. Of course, things went south and Jon ended up trying to double-cross three different groups simultaneously.
Throughout the book, Jon spent a lot of time being despondent about his job, his past history, and his future prospects. The mood was rather bleak throughout. Either I don't remember the first book as well as I thought I did or the tone shifted substantially. My favorite part of the first book was the way Jon used his nanotech. In this book, he barely used the nanotech at all. Between the gloomy atmosphere and the absence of the most interesting tech, I didn't see a lot to really enjoy.
I'm hoping that the next book in the series is a little bit better. If not, I may not finish it.