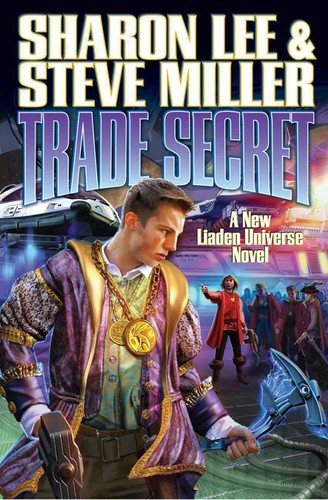 My rating: ★★★☆☆
Read From: 22 April 2014 - 26 April 2014
Goal: Series
The continuing adventures of Jethri Gobelyn—Liaden Trader, Terran Trader, the one man with good standing in two cultures. Jethri had loaned the Liaden Scouts a notebook he inherited from his father. It was supposed to be copied and then returned to him. It wasn't returned. Balance was required. Jethri teamed up with a Liaden Scout, to track down and recover his stolen notebook.
The notebook, of course, is a MacGuffin. It's an excuse to send Jethri and the Scout from port to port, world to world, both Liaden and Terran. It's an excuse to show Jethri operating in both of his cultures, sometimes simultaneously.
There were some interesting moments. But, mostly, I was unimpressed by the book. Jethri had a purpose to what he did but I didn't feel a connection to that purpose. The story itself wandered all over the place and didn't have a strong narrative thread.
The book constantly jumped back and forth in time. There were a lot of chapters that started out a day or more after the previous chapter ended, making it feel like you'd blacked out and missed what had been happening. Then, all of the sudden, one of the characters would either reflect on what had been happening or would relate the events to another character, filling in the details of what you'd missed. It was an irritating narrative device and quickly grew old.
I normally enjoy Liaden Universe stories. I didn't really enjoy this one and I would have been happy to miss it.