Critiquing "I Don't Have Enough Faith To Be An Atheist": Intro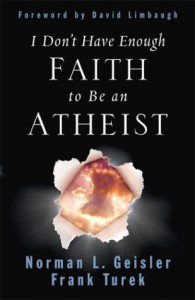 A couple of days ago I wrote about why I wouldn't be writing a series on this blog rebutting Norm Geisler's and Frank Turek's I_ Don't Have Enough Faith To Be An Atheist_, a book I feel is pretty emblematic of Christian apologetics as a field.
This is the beginning of that series.
I changed my mind and decided to write it for a couple of reasons. First, I was pretty convinced that such a series would be merely redundant, since Kyle over at ExChristian.net has already done an excellent job of putting paid to Geisler and Turek's book, but on further reflection Kyle's responses to the majority of these arguments aren't (all) mine. Second, the book's 12-step line of reasoning for why the Bible is divinely-inspired and inerrant also looks like a handy way to organize a discussion not only of Geisler and Turek's points, but the points of other Christian apologists like the odious Dr. William Lane Craig. Third, I have to read the book anyway - I promised - so I might as well get some mileage for Joe's blog out of it.
Webmaster Joe, incidentally, is reading and annotating a book of Christian apologetics himself: In Search of A Confident Faith, by Drs. Moreland and Issler. I think it'll be interesting to see how the two books we're reading compare. I suspect, for example, to find the two books replicate many of the same arguments. I will, of course, continue to snap at his heels whenever he posts, and gladly invite him to return the favor.
OK then! So here's Geisler and Turek's chain of logic, which is designed to take one from no presuppositions whatsoever in favor of Christianity to believing the Bible is the divinely-inspired Word of God.
Truth about Reality is knowable.
The opposite of truth is false.
The theistic God exists, which we can tell from the Cosmological Argument, Teleological Argument, and Moral Argument.
If God exists, miracles are possible.
Miracles can be used to confirm a message from God.
The New Testament is historically reliable.
The New Testament says Jesus claimed to be God.
Jesus' claim to be God was miraculously confirmed by his fulfillment of prophecies, sinless life, miraculous deeds, and resurrection.
Therefore, Jesus is God.
Whatever Jesus/God said is true.
Jesus taught the Bible is the Word of God.
The Bible is the Word of God and anything which contradicts it is false.
We'll start either tomorrow or the day after.
If anyone has any good ideas for what to call this series of posts, by the way, I'm open to suggestions. Nothing's coming to me just at present and unless something does, I'm just going to be boring about it.