And y'know what? It kinda works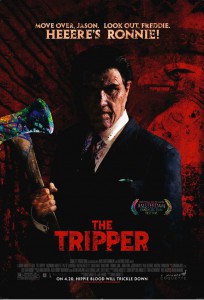 I'm about two years behind the times to be only seeing this now, but that's still pretty good for me, since it's not like I keep up with horror movies at all.
The above image is a teaser for the 2007 slasher film The Tripper, the plot of which is summarized on Wikipedia as follows:
"Free-loving hippies... escape to a modern-day Woodstock for a weekend of debauchery, only to be stalked by a radical-minded psychopath dressed and talking like Ronald Reagan."
You can't help but love the tag line ("Heeeeeeeere's Ronnie!"), a clear reference to The Shining. I can't think up a better one and I've been thinking them up ever since I read it ("This summer: BLOOD TRICKLES DOWN", "You Can't Just Say No", "Mourning in America", "There'll be no recovery from this", etc. Sigh. See?).
This entry was not tagged.