It beats an altar boy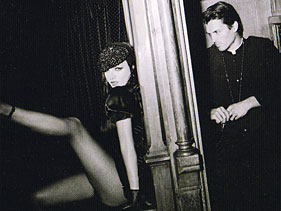 CATHOLIC LEAGUE SPOKESPERSON Kiera McCaffrey is righteously indignant about an album booklet included in Britney Spears' new CD release, "Blackout", reports MTV.
Said booklet shows Britney Spears and a handsome man of the cloth getting cozy together in the confessional.
Declares McCaffrey: "What would be great is if she got serious about her religious faith and instead of mocking the confessional, maybe she could visit one for its intended purpose... [The photo of her on the priest's lap is] a cheap trick."
Your Minor Thoughts correspondents naturally take umbrage at Ms. McCaffrey's assertions. Getting a pretty woman to sit on your lap is not a "cheap trick"; it's a difficult art - especially if you want Quality. It took the writer of this article 4-5 months to get this beauty onboard, and while he's no Don Juan, he doesn't think the Catholic League could've done any better.
But this leads us to the real tragedy: because, really, having a pretty woman on your lap is simply one more Biblical value which the Whore of Babylon can never understand. Looking at these photos, the priests of Rome see blasphemy, whereas we Protestants, quite frankly, see a step in the right direction.
At least Ms. McCaffrey and her ilk have the comfort of knowing not a lot of priests are going to see what fun they're missing, though. Sales on Spears' album debuted below expectations and have been sinking ever since.