Wizard Rock!
.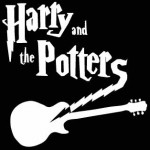 I could post today about the end of Atlanta football star Vick's sentence, or how the fubar state of New York is now considering a totally insane 57% tax on its highest-earning residents - but I really wouldn't be a friend to you if I didn't instead take this opportunity to instead inform you about the recent phenomena that is Wizard Rock.
I learned about this wondrous (dare I say "magical"?) music subgenre from today's _USA Today _article on the subject, which profiled no less than four of the Harry Potter-inspired bands, including pioneer group Harry & The Potters.
Bands describing themself as part of this new movement generally seem to be of the punk rock persuasion, stylistlcally-speaking. Their lyrics range from the touching and somewhat maudlin, as in this little stanza by Draco & The Malfoys:
_He never gave me the attention he gave Harry

He never showed an interest in me

I watched him from afar, wishing I had a scar

So he would see the great wizard I could be_
...on to the more energetic (by H & P):
_Dumbledore, we all fight for you tonight

In our hearts we'll never let you die

Your love is keeping us alive_
According to USA Today there are now as many as 500 of these bands churning out similar numbers - and counting. So if you were wondering just what new kind of music scene will emerge to dominate this next decade's charts like Hip Hop in the 90's...